The rain didn't dampen these volunteers' spirits because BTP's Summer Social of 2023 had a room full in attendance. As our successes and endeavours continue to grow, we wanted to share the day with old and new volunteers, giving presentations, talks and workshops to display our ongoing work in Birmingham. We want to continue building a base of knowledge and a wealth of 'treeformation' for our volunteers, tying into wider projects, partnering with other organisations, to elevate this work onto a wider platform.
---
Street Trees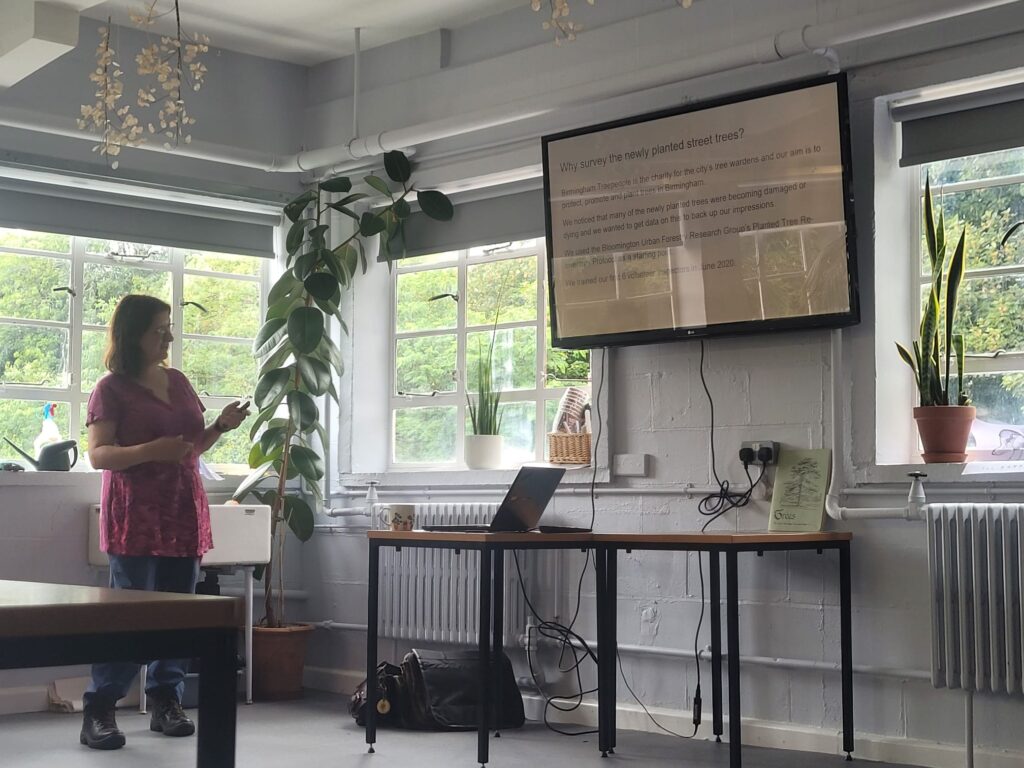 After registration and an introduction from Tonia Clark and Ian McDermott, Nina Griffiths started the summer social with a thorough presentation, highlighting her current work on the street tree surveying. They are assessing the crown die back, overall condition and possible damage of newly planted and old street trees around Birmingham neighbourhoods. The study highlights the lack of biodiversity and various recurring problems, proving that these citizen science surveys are imperative due to their informative results, showing what we can do to improve certain areas.

L2 Awards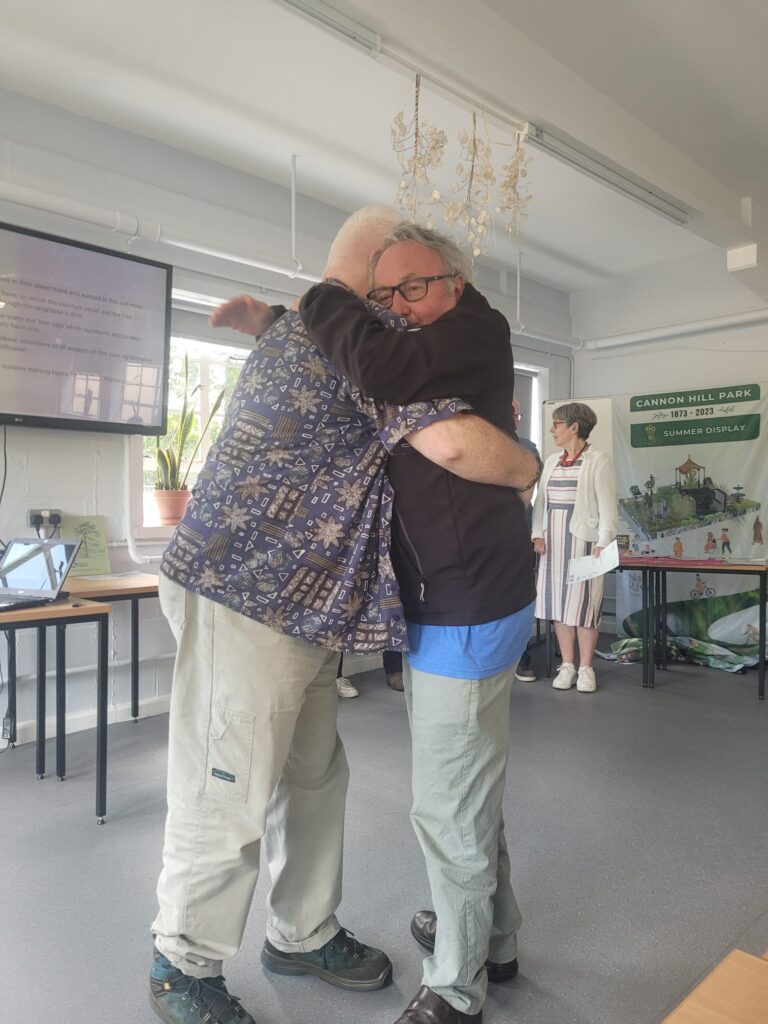 Following on from this fountain of knowledge, several volunteers that have undertaken their own quest to further their qualifications within arboriculture we rightly rewarded; Deb Cashmore, Tonia Clark, Willie McGee, Julianne Statham, Tanya Upton, Stephen Watson, and Lawrence Weston (unfortunately not in attendance) were awarded their certificates for completing the L2 Arboriculture course. This is the first course that BTP have run, and the students have done spectacularly, as well as the second course currently running and going well.
iTree Eco 2023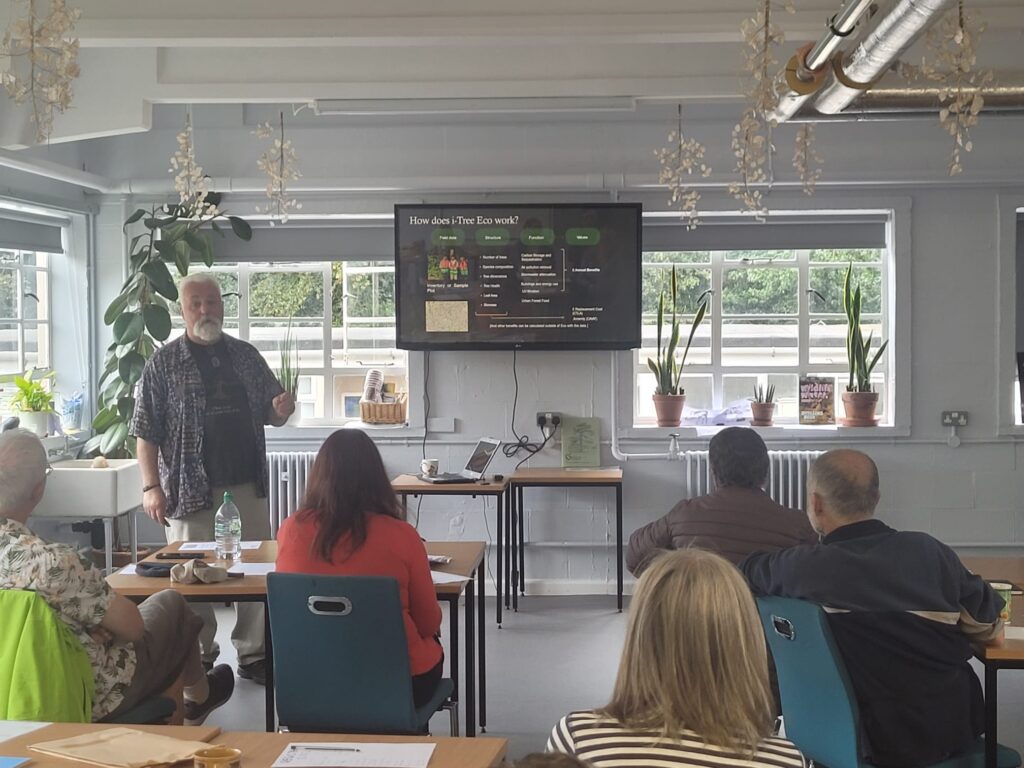 Ian McDermott, having presented the awards, had no time to rest before delivering a detailed presentation on the iTree Eco 2023 survey of Birmingham Coventry and Solihull. As some of you will know, our volunteers completed the survey in a shocking two weeks, exhibiting great determination and enjoying themselves whilst doing so. The survey intends to supply the information needed to increase canopy cover and green space in key areas, having surveyed the random plots around the City of Birmingham that our volunteers oversaw. This has been a spectacular achievement for us and our volunteers, who deserve the praise, as it has been completed faster than any study of its kind previously, as well as being the largest. Congratulations to everyone involved.
Tree Trails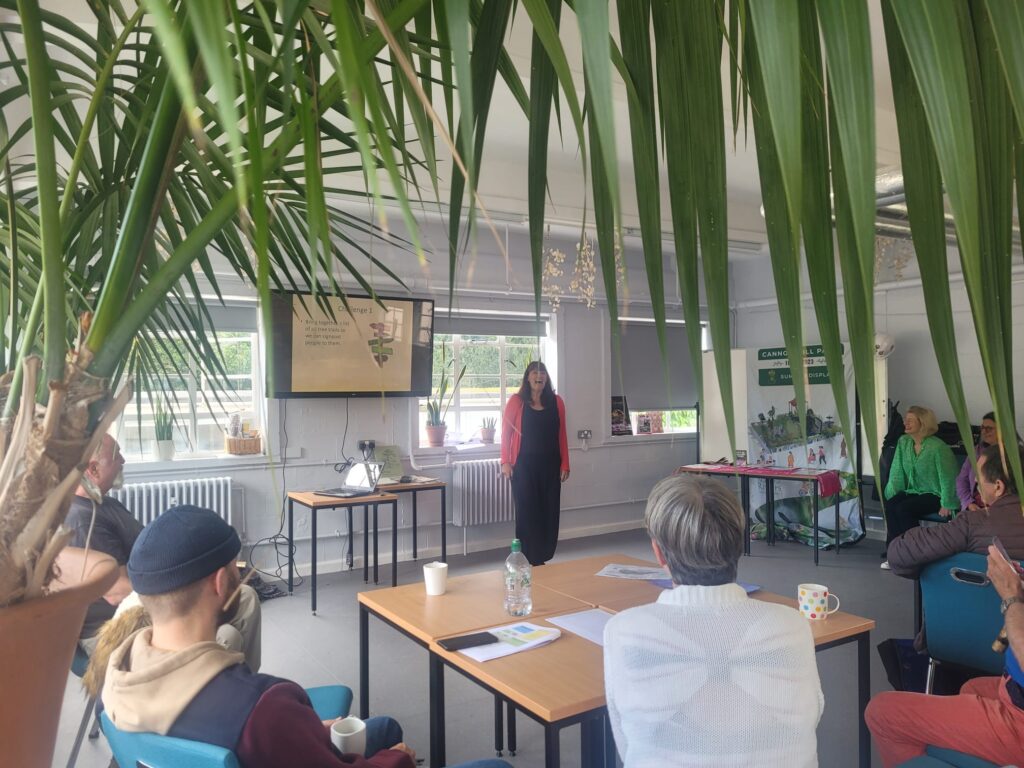 Not only did we provide our survey updates, but Dee Brettle gave an interesting talk on the work she has done, to digitize the Friends of the Parks' Tree Trails, to keep exact locations updated and reducing costs of printed trails. If you have a mobile, playing 'Pokémon Go for trees' is something that can be encouraged as a green prescription, for old and young, and the online data can include seasonal images, provides extensive information at the beginning of each trail (the Friends group involved, the trail and trees).
Practical Sessions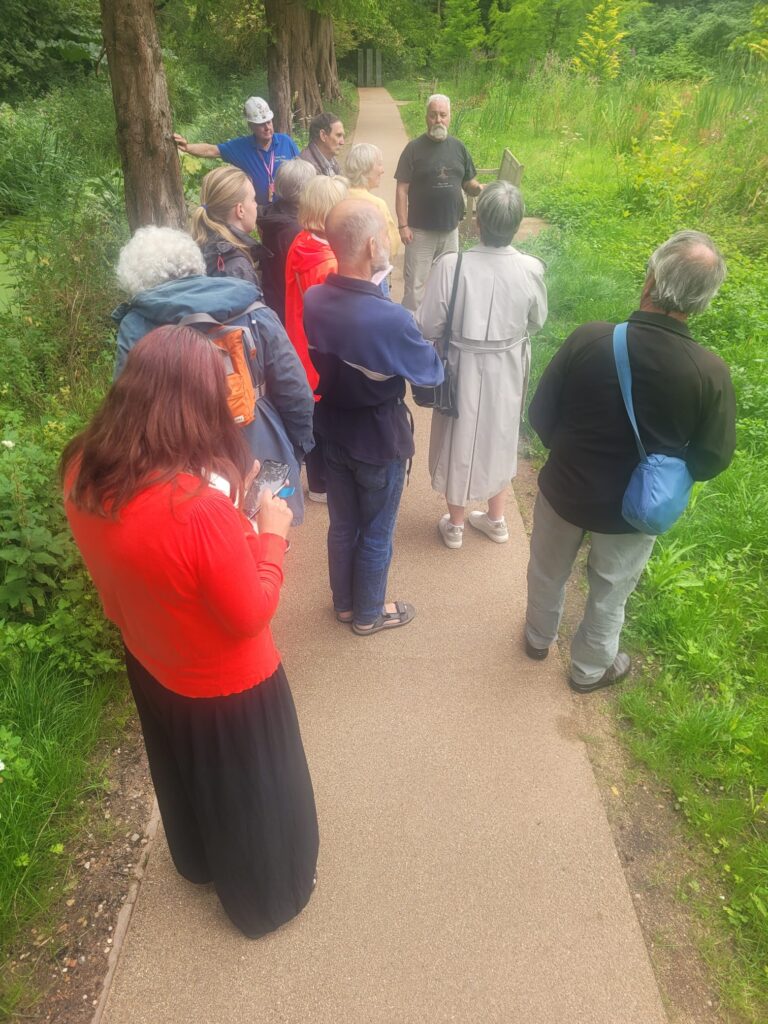 During the split practical sessions of the summer social for the Street Tree surveys and Tree Trails, the groups were able to learn from Nina and Dee first-hand, showing the volunteers how to measure and record street tree data, as well as selecting the best species of trees to include in your trails. We managed to gain two new Street Tree volunteers, but we are keen to find more, so if you are interested in looking after your trees near you, please don't hesitate to contact us.
Afterword
After tea, coffee, and delicious cake made by Julianne, the day wound to a close with the group talking and buzzing with enthusiasm. We want to thank those of you who attended, those who presented and organised the event, and those who provided culinary help. We are looking forward to our next event, but if you want to stay updated in the meantime, please join our ever-growing mailing list.